ALOHA JOE MAGAZINE
<>
Island Recipes
<>
DANNY COUCH - These Islands

<><><>
LISTEN TO ALOHA JOE RADIO 24/7/365


FIXING UP OUR OLD FRIEND
Photos by Kathy Boast
www.kathyboast.com

These are all the articles we posted since 2006.
The IMP has been bulldozed and they are currently
constructing the ALL-NEW Marketplace.
Here are the drawings of what it will become in the future.




We know "The International Marketplace" in Waikiki will be refurbished, we just don't know when....
We'll be visiting this historic shopping Mecca in
April, 2011 and will see if we can learn a bit more.
We did learn that the Miramar Hotel. located on this property. was recently given a 2-year extension on their their renovation.
<><><>
When we visited for the Hawaii Music Awards,
(March, 2010) we saw evidence of these changes. Shops closed, others preparing to move (sometime...they don't know when), a few no longer ordering "stuff." One shop owner said,
"We're just selling off what they have in-stock."

The actual date for all the work to begin has not been announced, but here's a peek at an early rendering of what we THINK the International Marketplace
might become. If so, it will be a
very nice addition to Waikiki.

<click to enlarge>

Other signs of change....
Coconut Willie's, (bar on second floor)
a marketplace landmark has closed.
The posted sign says...UNTIL FURTHER NOTICE..so??

Kathy Boast took these photos as she was shooting
a new video piece for ALOHA JOE TV's
Hawaii After Dark Series - available 24/7 on-demand.
TAKE A LOOK - www.alohajoetv.com
CLICK ON-DEMAND - Hawaii After Dark

The hula show is a
night-time event at the
International Marketplace!
Drop by next trip!




The International Marketplace - April, 2009
Aloha Joe's favorite shopping mecca!


The 2nd Floor has lots of new shops

Many visitors!

Up in the trees

Stores are stocked

Many treasures

Where are the buyers?

A nice place to visit

The NEW Food Court
The International Marketplace MIGHT
be raised in the next few years...
Making way for???

7 T-Shirts for $19.99


Aloha Joe's friends
booth 18 (in the rear)

Lots of products!

The Tree House Cafe

2nd Floor - Great Food, Coffee &

FREE WI-FI!!


<Aloha Joe takes a walk around the Marketplace!>



Well, there she is...The International Marketplace
a Waikiki tradition for as long as just about anybody can remember.
We've been following the expansion and re-building since 2006 (scroll down)
(10/08)
The NEWS is that they MIGHT be re-constructing the ENTIRE marketplace in 2011.
If they bulldoze it and start over...things will NEVER BE THE SAME in WAIKIKI.

I must have walked through this property at least 1000 times,
maybe more. The Marketplace is the shortcut I use it to get from
Kuhio Ave. to Kalakaua Ave.
AND on every trip, I find a bargain or three.
This is Aloha Joe's personal SHOPPING PARADISE.

Looking around my home & office, I find tons of T-Shirts,
Aloha Shirts, Wind Chimes, Luggage, Slippers, Glass Pineapples,
my Money Clip and carry-on bags. Each trip, I visit our friends at
"Booth 46" Aloha Motion Jewelry and I have to have something!!
My new boarding bag (fits over my shoulders)
AND a luggage straps (Bright Red Hibiscus design) came from #46.....
See, I always find something.

Francine @ Booth 46 - The Roof is fixed!!! (see above)
They are DRY and staying put!
<>

Booth #46 - Ukuleles!!
<>

Everywhere you look there's a treasure.
<>

The really unusual thing is that almost everybody
is selling the EXACT SAME THING!!!


How about some $1 bracelets?


Because of the recent rains the Banyan trees are more
beautiful than ever!!!!!!


Here are a few shots of the food court.
There's lots of activity
every day!!



"Coconut Willies"
Still the HOT NIGHT SPOT
in the Marketplace

Don't forget to take a few snaps on
your next trip
For some, the International Market Place has never been truly INTERNATIONAL or a REAL MARKETPLACE.
But it was for me.
Years ago, Duke's was there featuring none other than the Don Ho Show. The IMP was the location of
Don The Beachcomber's too.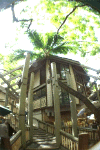 With the Koa wood tables, the fishnets overhead; each sporting a large colorful glass ball. The lighting was subdued and the Mai-Tai's were strong! A favorite drink was a rum punch served in a real pineapple shell (with the top & inside removed). FANTASTIC...

Martin Denny's group played at the Marketplace.
(Those were the days, huh?)

The international aspects are best seen in the "HAGGLE."
One booth will be selling brightly-colored
Ukuleles for one price...
and the stall just across the path has them for
a dollar maybe 2 dollars less...
How can you NOT buy a purple ukulele??
Aloha Joe's travel barometer.
Here's how I always knew what the current visitor numbers were (are). I would visit the IMP and look at the
T-Shirt vendors.



If they were selling shirts 5 for $20,
there were lots of visitors.
If they were selling 8 shirts for $20, tourism was down. I never needed an expensive survey, just check the shirt-sellers.
(3/06) Shirts selling @ 8 & 10 for $20....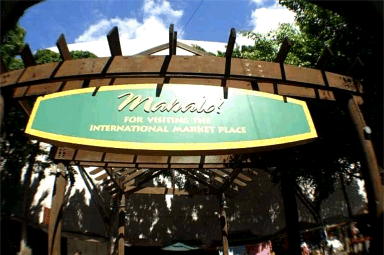 Mahalo for visiting the International Market Place....
Lots of bargains still await!!!!!
<Special Mahalo to Kathy Boast...great shots...>
visit www.kathyboast.com