We've added some photos from our April, '09 trip!
We've been covering the re-construction since the beginning!
<look below - MOANA SURFRIDER HOTEL -and See Royal Hawaiian Center>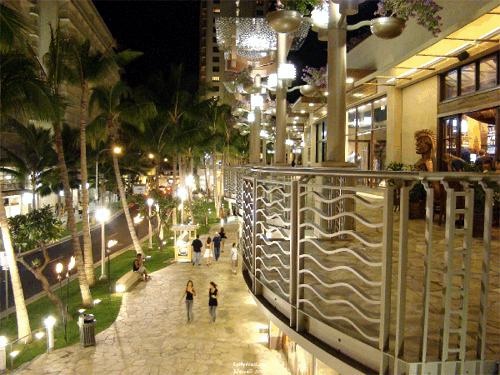 Lewers Street is finished and beautiful!
A "must-see" on your next trip!!!
<photo taken from second floor at top of escalators>

Lewers - Looking Good

Both sides are finshed

Good Food & Shopping

Don Ho Street

The Trump Tower

Trump from Reef Hotel

The New Reef Hotel

Poolside Music Here

Lobby is beautiful!

The second floor

YUMMY!

Hawaii After Dark

Everywhere you turn, there's a great view!
Wonderful restaurants and island music too!
Lewers Street is once again, a great place to hang-out!!
From ALOHA JOE TV.com
Aloha Joe's Waikiki Adventure!!
we walk all around Waikiki


MOANA HOTEL - APRIL '09
| | | |
| --- | --- | --- |
| | Street Entrance | The Front Veranda |
| Lobby Interior | The long Hall | The Rear Veranda |
| The Giant Banyan Tree | The Rear Courtyard | The Pool Area |
| Quilts on Display | Beach Access | Many Quilts |
| Traditional Designs | | Beautiful Work |
PHOTOS FROM KATHY BOAST
Shot on Lewers Street in Waikiki
@ TheHilton Hawaiian Village!!
UPDATE - PHOTOS from AUGUST, 2005 - BELOW
UPDATE - MARCH 2006
UPDATE - SEPTEMBER 2006
JIM & PAT STOCKMAN - Glendale, CA
Shot some Waikiki photos during Christmas '06
WAIKIKI NOW - UPDATE
Jim reports that "The Embassy Suites" is open.
<They made their deadline>
The Suites is located directly across from the ABC Store on Lewers. It really looks like all the work they are doing is coming out nicely.

The Royal Hawaiian Shopping Center will take quite awhile longer. It's all open for business during construction.


Jim's 2 new shots can be seen on the ROYAL PAGE

Jim, Pat & Sonya Mendez - Christmas in Hawaii 2006
Mahalo for the SNAPS! Aloha JOE®


Diamond Head, Oahu, Hawaii- 3/19/06
Green and sparkling with waterfalls!
<Photo by Kathy Boast>
THIS PHOTO is "real" and has NOT been re-touched!
In March, 2006, we were in Waikiki for the 9th Annual
Hawaii Music Awards! Kathy Boast took this "unreal" shot of
Diamond Head from the dining area of The Royal Hawaiian Hotel!
The famous landmark was green and lush and
there are waterfalls too! Proving that March, 2006
was the wettest month anyone can remember! It really rained!
<><><><><>
Now, let's take a walk down Lewers Street

(These photos were taken by long-time listener to Aloha Joe Radio )
Peter Sanderson!!! (11/06) Mahalo!



Photos by Peter Sanderson
NOTE IT SAYS...GRAND OPENING FALL 2006!!!!!!!!!!!!!!!! - THEY MADE IT!!!

Corner of Saratoga Road & Kalia Road
Where the McDonald's used to be...it's where the Trump Tower will rise!!

Across the street from Denny's looking UP Lewers!

Opening
Fall 2006

EMBASSY SUITES taking reservations for Jan 07!

Lot's of restaurants!!

Let's take a walk!!

Corner of Don Ho & Lewers...a Starbucks!

The work continues rain or shine!
MAHALO PETER!


Where are all the people?
Waikiki - April, 2005
The face of Waikiki is always changing.
Since I only get to visit Hawaii once a year,
I really notice what's new, remodeled, or gone!
Some of the changes are good, and some are just impossible to relate to.

If you've stayed in Waikiki you most-likely know these streets,
Lewers, Beachwalk and Saratoga Road.

This is where many "Ohana" Hotels were located, a showroom or two
and some famous restaurants, shopping and don't forget the ABC Stores.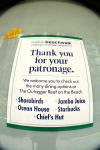 When I was there, it was a "ghost town."
Like being in a SCI-FI film...
where did all the people go?


COMING SOON - WAIKIKI BEACHWALK
This is an multi-million dollar Outrigger Hotel development which will transform
this area into a "thing of beauty." "Roy's Restaurant" was the first tenant to sign.
They promise exceptional shopping, entertainment,
food & of course, new Outrigger Hotels.


Shortly after our visit, the wrecking ball came down
hard on this area of Waikiki. The construction will continue for quite a while,
so on your next trip, drop by and take a few shots of the construction.
(Send them to us...and we'll "update" our story")

Let's continue our stroll down memory lane.....
At the end of Lewers street you find two
"classic" hotels that aren't going anywhere.
Please do send us a photo of the area so we can
all follow the progress of the Waikiki Beachwalk!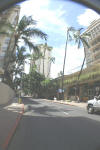 Mahalo for walking with us...
<photos by: Kathy Boast - www.kathyboast.com>

These photos are from Chuck Pipe -
Guelph, Ontario, Canada - Shot August, 2005